Our Famous Charter Fishing in Ketchikan
Charter Fishing in Ketchikan For Halibut & Salmon
You can contact us at any time with questions or concerns, and I will be happy to answer them.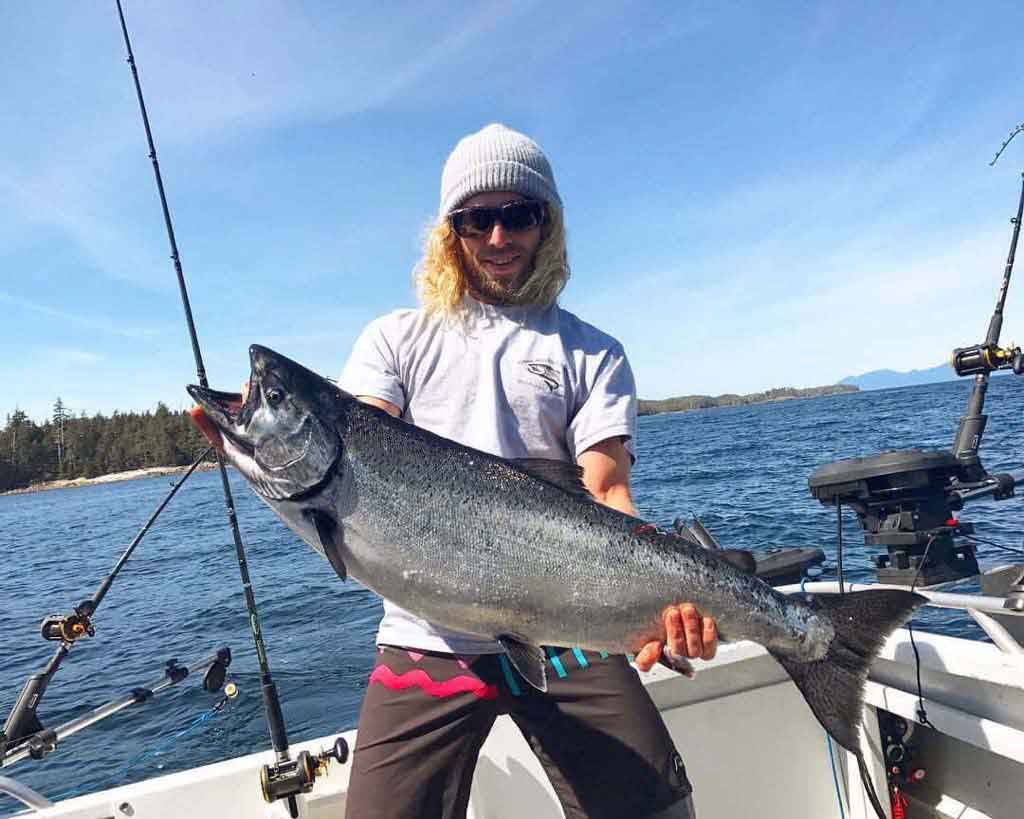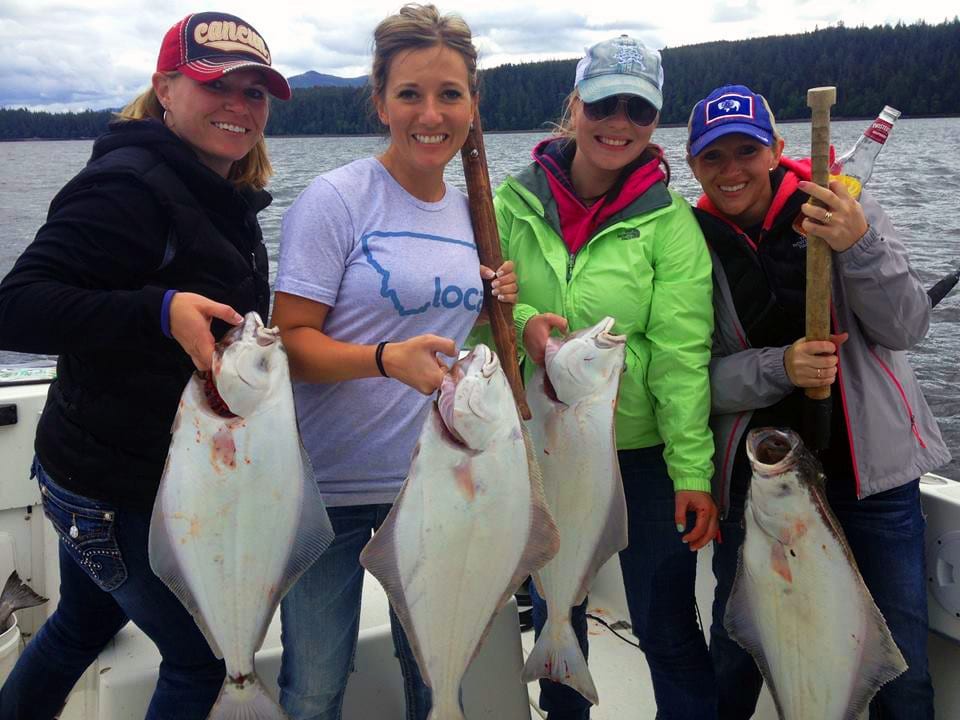 Customized Ketchikan, Alaska Fishing Trips
Ready to plan your Alaska Fishing Adventure?
Book today to reserve your spot with one of Alaska's most popular fishing guide services.
We offer the best Salmon and
Halibut fishing in Ketchikan.
Our Most Popular Fishing Trip: 4 or 6 Hour Salmon Fishing Charter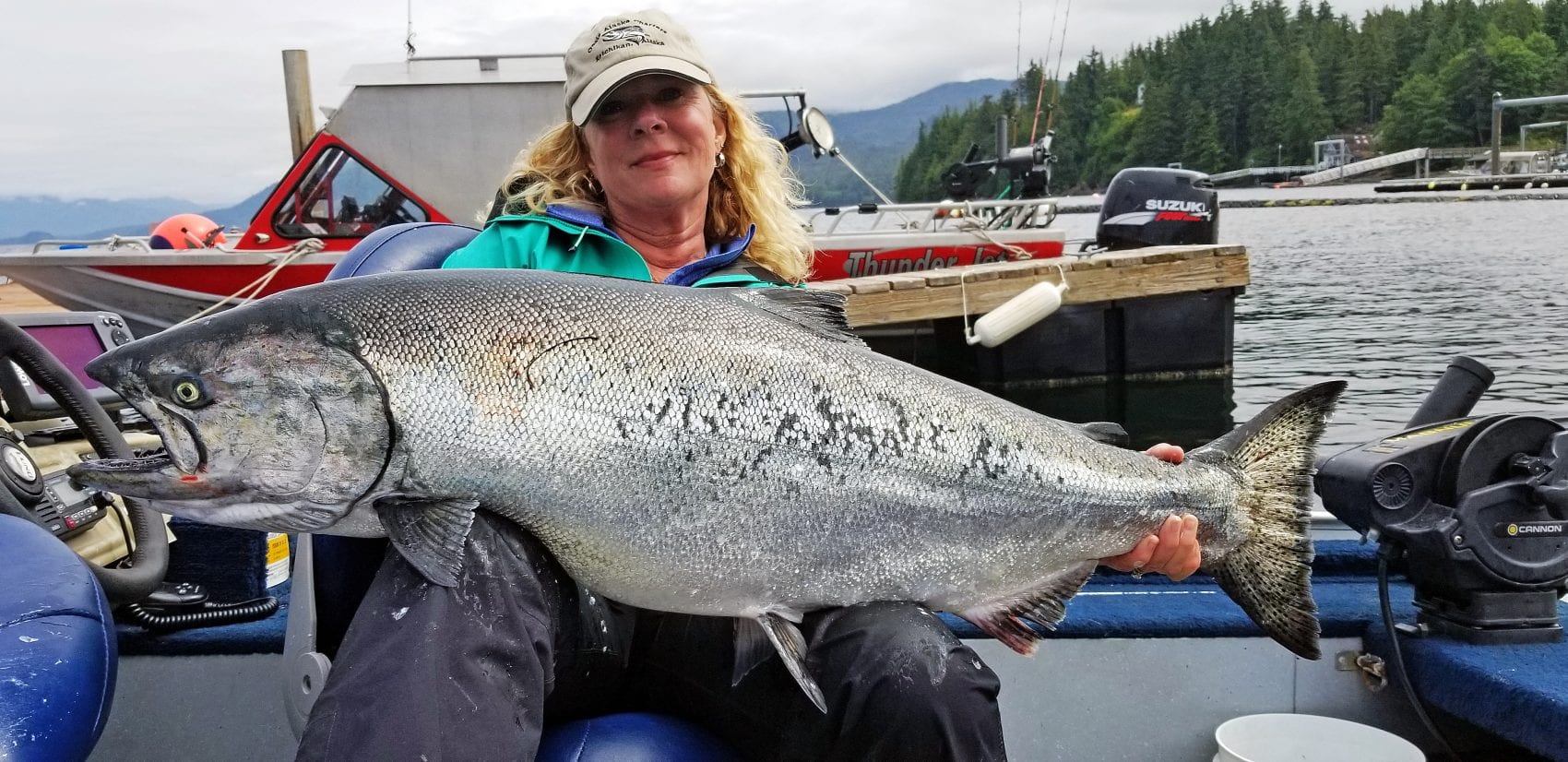 When you book a 4 hour 
Salmon charter
with Oasis Alaska Charters in Ketchikan, Alaska, we do our best to spend more time fishing rather than running in the boat! 4 hour Salmon fishing is our most popular charter if you are on a cruise ship and time is limited.
You will be fishing for King, Silver, Pink, and Chum salmon. Depending on the month, each species has its best time of running through Clover Pass. If you have more time, the 6 hour Salmon or 6 hour Salmon/Halibut charter gives you a better opportunity to catch more fish! It is all about the rod hours when it comes to fishing in Ketchikan, including the densely populated fishing waters of Clover Pass!
A huge bonus for our guests is all of the wildlife you could see when you're out on your charter. It's very common to see Alaska Bald Eagles, Humpback whales as well as Killer whales to mention a few. You might want to visit our FAQ page for more information.
Bubble Feeding Whale 
2:16
Juan Christensen shot this video off the dock at Clover Pass Resort in the summer of 2015 of a whale bubble feeding.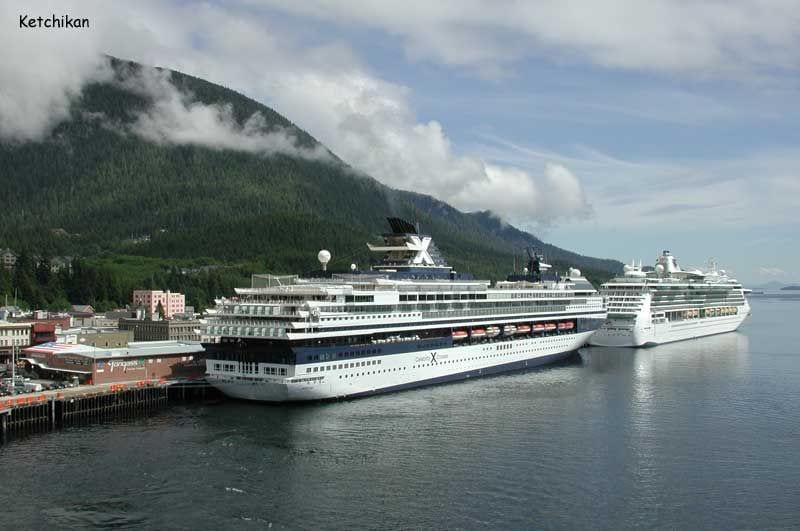 Cruise Ship Guests Can Save Money
Here is where we try to talk you out of purchasing your charter fishing in Ketchikan trip from a more expensive fishing excursion on the ship and to book a private charter with us.
If you get one of the fishing excursions from the ship, you will pay way more and not know very much about it.
You're not going to know things like the condition of the boat or gear, its size, the number of downriggers or how many fishing poles will be used at one time is it clean, is there a toilet, etc.
You will get on a bus with the other people that are going fishing, driven to the dock where you will be grouped up with others that will be in your fishing group and taken to the boat.
In most cases, there will be six of you on the boat. But in some cases, it could be more. It can still be fun, but you also have to share the fishing poles. If the boat should only catch a few fish, you may not get to be one of the lucky ones. In my opinion, this is all about the bottom line and not what is best for the customer. I can only think of one case where this works out in your best interest, and that is if you're the only one in your group that wants to go fishing because all of the charter boats have a two – four-person minimum.
Large Groups
We work with an elite group of charter companies that also meet our high standards, so no matter how large your group is we can accommodate you and your group's needs.  We have the ability to work within your time schedule so you can chase your charter fishing Ketchikan Alaska fishing dreams on the best-equipped boats in Ketchikan.
We understand
That many of our guests might only get the opportunity to fish in Alaska once in a lifetime.  We never take it for granted and our goal is to make it the best fishing experience we can.  We work hard to make it not only a lot of fun but do in it in the safest manner possible.  Fish On!!
Peak Salmon Runs
At the peak of the salmon run, it's very common catch anywhere from 2 to 4 salmon at the same time. When this happens, there are few things more exhilarating. The salmon are running all around in different directions and it's one of the most astonishingly beautiful things to witness and experience.
Location
A huge benefit to all of our customers is that we dock our boat at Clover Pass Resort. At Clover Pass Resort we are just around the corner from some of the best salmon fishing in all of Alaska. Being so close to these areas means that we are able to spend more time fishing and less time getting to and from the best fishing areas in the region. When you fish with Oasis, you'll get to fish in Ketchikan and experience Alaska as many of the locals do.
Fish Processing
Upon the completion of your charter trip, Clover Pass Resort is set up to process your catch and get it delivered to you. Clover Pass is top-notch and takes great pride in what they do. You can see how the fish is processed and then just relax.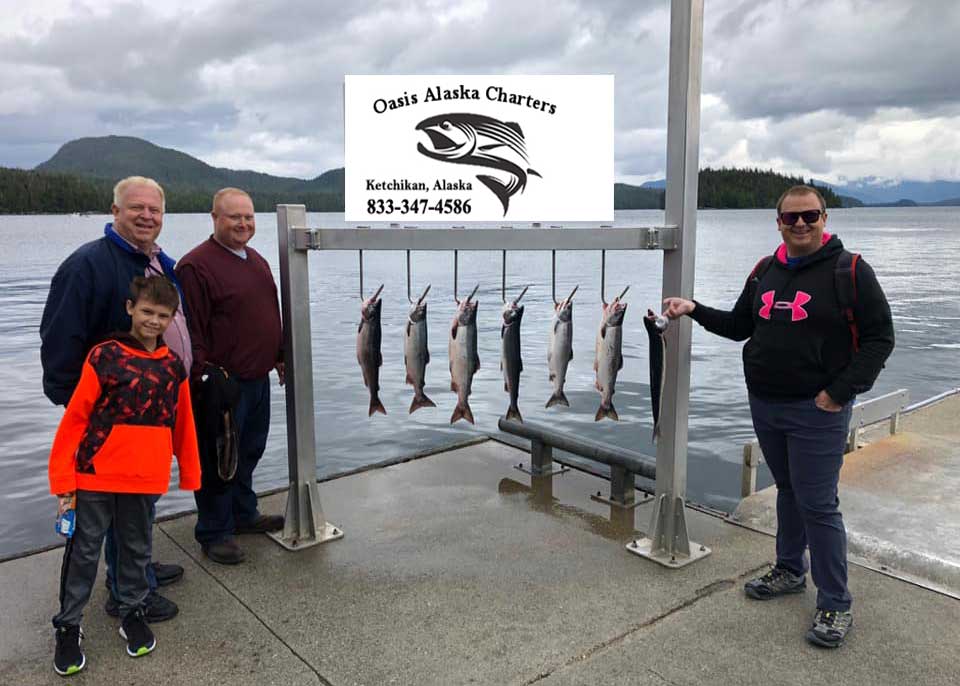 4 Hr. Salmon Charter
All prices shown are per person.

Duration: 4 Hours

Price is based on group size.

Maximum Guests: 6 per boat

Private Boat: Yes

Covered Cabin: Yes

Toilet On Boat: Yes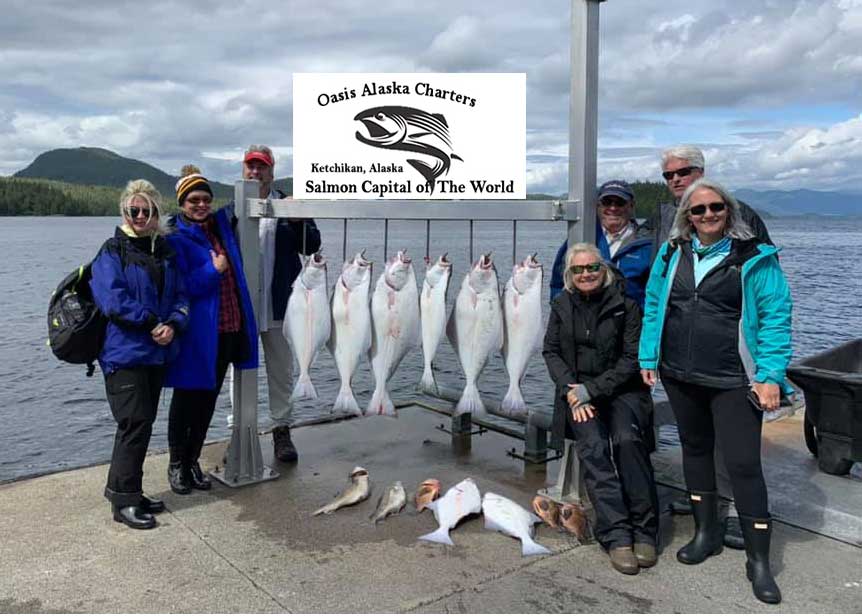 4 Hr. Halibut Charter
All prices shown are per person.

Duration: 4 Hours

Price is based on group size.

Maximum Guests: 6 per boat

Private Boat: Yes

Covered Cabin: Yes

Toilet On Boat: Yes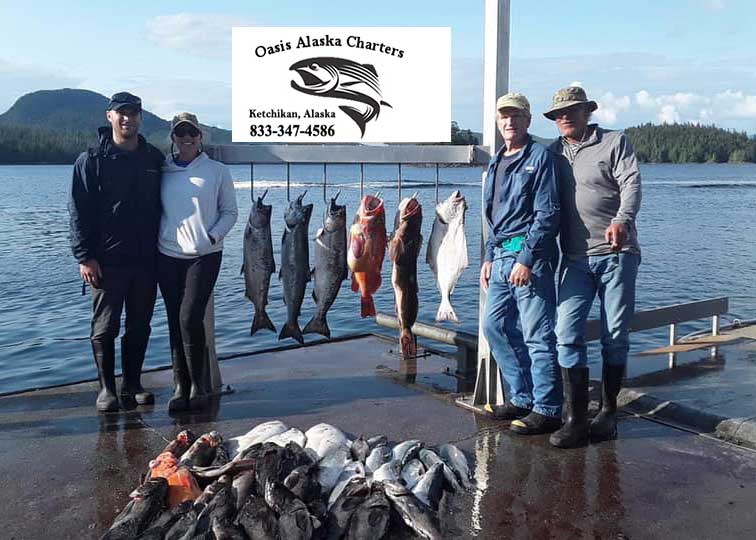 Full-Day Salmon & Halibut
All prices shown are per person.

Duration: 9 - 11 Hours

Minimum Guests: 4

Maximum Guests: 6

Private Boat: Yes

Covered Cabin: Yes

Toilet On Boat: Yes