Step 1
Getting From Your Ship to Clover Pass Resort
Once you've escaped the crowds of your cruise ship, your first step is to get to Clover Pass, where our boats are docked. The easiest way to do this is by arranging a ride with one of the local taxi companies. We partner with Sourdough (907) 225-5544, and they give all our guests a decreased rate on their ride out. Let your taxi driver know you're heading to Clover Pass Resort, and that you're fishing with Oasis Alaska Charters. Their drivers will typically know our captains and help point you in the right direction once you arrive.
Step 3
Being Ready to Fish
Before you're able to go fishing, there's a few things you want to have.  The first, and most important, is a fishing license.  Alaska requires anyone with a rod in the water to have a fishing license.  Our captains can write you a license when you arrive, but this can take away from your time fishing.  We highly recommend you get a license online before you arrive from the State of Alaska.  You are able to purchase it to be active for the day you're fishing, and it costs the same as having it issued in person.  We will also need to fill out the State of Alaska logbook and we have to have your fishing license number before we can fill it out.   We have rain gear onboard, but also remember to bring warm clothing.  Weather in Ketchikan is subject to change anytime.
Alaska Department of Fish and Game License Store Online
https://www.adfg.alaska.gov/Store/
The most common license purchased by our clients is the 1-day Sport Fishing License.
If you are salmon fishing in May, June, or July, we also recommend at least one person in your part has a King Salmon Stamp which is required to keep King Salmon
Step 2
Finding Your Captain and Your Boat
Once you arrive at Clover Pass, you can head down the boardwalk toward the dock.  Depending on when you arrive, your captain may be on the boardwalk waiting for you, or down at the boat.  Clover Pass has staff who can point you toward one of our captains, but they will not necessarily know which captain you are with.  Our boats are generally in the spots seen marked here, so feel free to come up to the boat, where the captain is likely rigging up some fresh bait for your trip.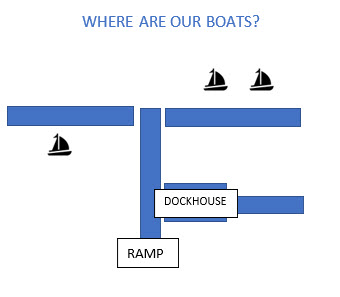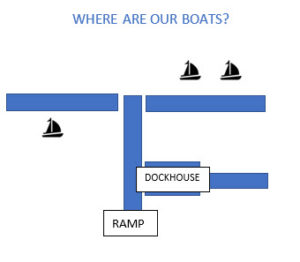 Step 4
Lets Go Fishing!
Our boats are equipped with everything need to catch fish, except you!  Once you're aboard with your license, the captain will take you to where the fish are.
On a 4 hour salmon charter we stay close to where we are docked and a lot of the time we can just untie from the dock and start fishing.
On a 4 hour Halibut charter we do have to make a short run, about 15 – 20 minutes or so then anchor the boat in about 300 feet of water where we can start fishing.
On our 6 hour trips we will be able to move around a little more because we do have time.
Our all day trip we can run up to 2 1/2 hours each way depending on where we know the fish are.
We do most of our salmon fishing by trolling, and most of our halibut fishing by anchoring and jigging, but our captains will use other techniques depending on where they see fish and how they are acting.  We want to make sure you can make it back to your ship on time as well, so once you finish fishing and are headed back.  If you took a cab out to Clover Pass your driver should be at the dock waiting your return.
Step 5
Wrapping Up
Once you're back on the dock, there are a few things we need to do before you jump in your cab and head back to your ship.  The first is to sign the Fish and Game logbook (hooray government paperwork!).  The second is to finalize any balance due on the trip with your captain.  Your captain can take payment for the trip balance, licenses, tips, and any other expense by cash or by card on-board.
The final step is to make sure your fish gets shipped home!  The staff at Clover Pass will fill out some paperwork with you, and get a shipping address, contact information, and credit card number, as well as how you want your fish processed.  The most common way is one-pound filet portions, individually vacuum packed.  All fish is shipped frozen overnight, and Clover Pass will hold it until you're home.  Don't forget to get a photo of your fish!
Also if you enjoyed your trip with us a TripAdvisor review would really help us out.