Ketchikan Fishing Charter 9 Tips For a Successful Alaskan Adventure
Ketchikan fishing charters is the salmon capital of the world. It's the perfect place for a once in a lifetime fishing adventure.
Whether you're a seasoned fisherman or this is your first Ketchikan fishing charter, there are some important things to know in order for your trip to be a success. Here are 9 helpful tips to follow on your next fishing adventure so your trip is well worth your time and money–not to mention, an enjoyable memory.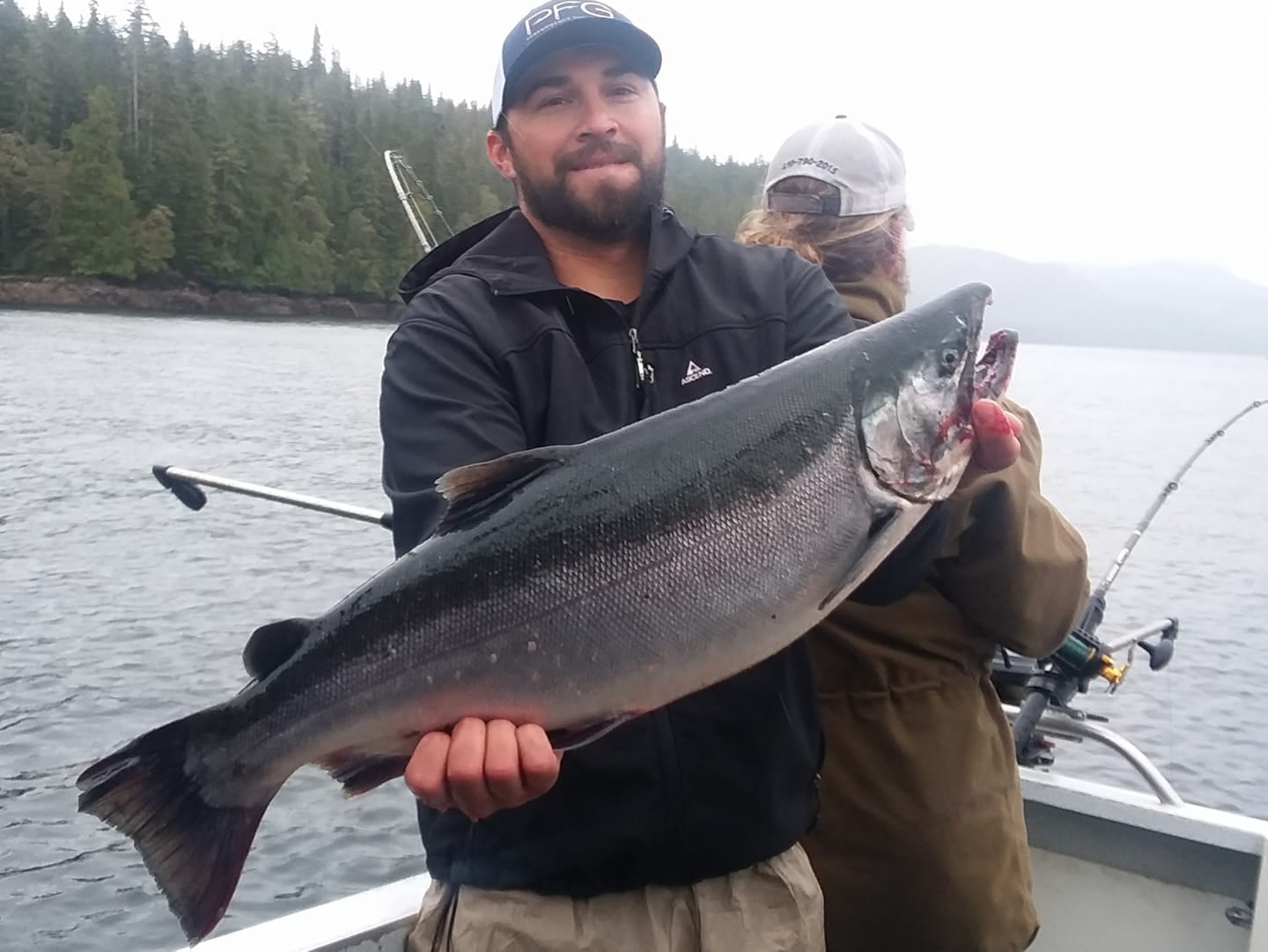 Choose the Right Tour Length
Many fishermen looking for a Ketchikan fishing charter tour are visiting Ketchikan from their cruise ship. If this is the case, the length of your tour is important. The basic tour lengths are generally between 4 and 6 hours.
Extended day trips and even multiple day trips are also available for those staying in the area. However, if you need to make it back to your ship before departure, the ideal length for a fishing charter is 4 hours.
This is plenty of time for you to enjoy a half-day out on the water.
At Oasis Alaska Charters, when you opt for a 4-hour tour, we do our best to work within your timeline and make sure the majority of your time is spent fishing instead of just running around the boat.
Prepare for Seasickness
Are you or a member of your party prone to seasickness? Not to worry! This doesn't disqualify you from an enjoyable time. According to the National Institue of Health, about 1 in 3 people are prone to severe motion sickness.
The point is, you're in good company. Odds are you're far from the only one on board who may feel queazy while on your Ketchikan charter fishing trip.
Just be sure you plan ahead. Prepare with appropriate medications and avoid eating a large meal just before boarding. For some, it may help to bring a few small snacks to settle their stomachs.
Just be aware of your own body and how it might react to seasickness. Snacks may help some while worsening the condition of others. Check with your doctor before combining any motion sickness medications with other medicines you may be taking.
Know Your Fishing Style
What are you hoping to accomplish on this Ketchikan fishing charters trip? Is it all about the catch or bonding with your family?
Talk with your captain before booking to determine which type of trip will best suit your interests. A good captain will make your needs a priority and accommodate you as best they can.
Dress Properly
This can be especially tricky if you're coming off a cruise ship and didn't originally plan on chartering a fishing tour. When you're heading out on your Ketchikan fishing charter, you need to be prepared for all kinds of weather.
Regardless of what weather reports might say, things can change quickly out on the water. Be sure and pack a waterproof coat or jacket as winds and water generally make for a chilly, wet time.
You'll also want to wear closed-toed shoes (preferably water-proof). Walking across the dock, boat, and around fishing-lines is not a toe-friendly environment.
Waterproof hats at often a good idea as well. You don't want to give up a great catch because the sun got in your eyes. That being said, we recommend bringing a hat that you're not deeply attached to.
Tears over lost garments are a bit of a buzz kill on a fishing charter. This trip should be fun!
The Price is Right
Before you book a charter, price is a factor not to be overlooked. Set a budget beforehand so you don't feel stressed about costs and let that spoil your amazing adventure.
One thing to be aware of is that if you find a deal that seems "too good to be true," it probably is…
The fact of the matter is, the best charters spend close to $400 a day on fuel alone. This cost will vary depending on a number of factors, but it's just one in a long list of expenses a truly quality captain will accrue to cover the cost of the excursion.
Ketchikan charter fishing trips are not all the same.  A lot of other companies especially the bigger ones are just happy to take your money and really do not care, they are all about the bottom line.  Oasis Alaska Charter is different when it comes to Ketchikan charter fishing.  We take great pride in making sure you have the best time possible.  Our trained multi-year captains know how to catch fish.
Other factors include:
Proper licensing of all crew and captains
Do they have reviews from outside companies like TripAdvisor?
Vessel docking fees or head tax
Quality tackle and bait for all on board
Boat maintenance, electrical, navigational, etc.
Safety training for captain and crew
When all is said and done, you will get what you pay for. Finding a safe, quality tour will be well worth the cost if a great fishing adventure is worth it to you.
Keep a Sense of Humor
As any professional fisherman will tell you, even the best of conditions don't always produce the perfect catch.
Sometimes expectations of your catch are different from the results. That doesn't mean you can't have a wonderful experience in every fishing adventure. Just be sure to keep a sense of humor about your end enjoy the ride.
Prepare for Wildlife Encounters
When you book with Oasis Alaska Charters, be prepared to see more than just the fish you catch. The waters of Ketchikan are teeming with astounding wildlife.
Be prepared to have your breath taken away as you may potentially encounter everything from Killer whales, Humpback whales, Alaskan bald eagles, and more.
You'll want to have a camera ready to capture these remarkable moments. Part of the fun of an Alaskan fishing charter is that you never know what remarkable wildlife you might see from day today.
Safety First
As mentioned, safety is a major factor in having a great fishing experience. The ocean has a mind of its own and changes in weather, water conditions, and more can occur at a moment's notice.
Be sure to pay attention to any safety instructions your captain and crew offer you.
Don't assume that because you're a good swimmer, safety training isn't relevant to you. Know where lifevests and other safety equipment are stored on the ship. Also, be aware of what your charter's insurance covers.
Be sure your captain and crew are CPR certified and are licensed by the U.S. Coastguard.
Communicate With the Crew
Is this your first Ketchikan fishing charters trip? Again, communication with your captain and crew is essential. Let them know what your experience level is.
This will help them better educate you and help make sure you and your entire party have a great time. Ask questions, seek assistance, there's no shame in not knowing something.
After all, even the most experienced fishermen and women were once beginners too.
Book Your Ketchikan Fishing Charter Today
If you're ready for a rewarding, adventure-filled, trip of a lifetime, it's time to book your Ketchikan fishing charter today.
For questions about options, crew, conditions and more, browse our FAQ page. We look forward to seeing you on the next Ketchikan fishing adventure soon!