Fishing in Ketchikan Alaska – The First-Timer's Guide
If you're going fishing in Ketchikan Alaska, you're in for a real treat.
Boasting a wide range of fish and unparalleled natural beauty, Ketchikan has a lot to offer.
Though often first-timers can be a little anxious about their trip and aren't show what to expect or how to prepare.
That's why we've created this 'First-Timer's Guide so that you can have the best trip possible.
Let's get to it!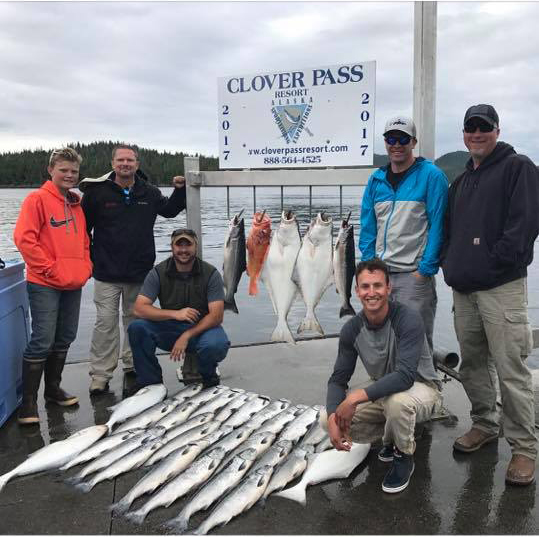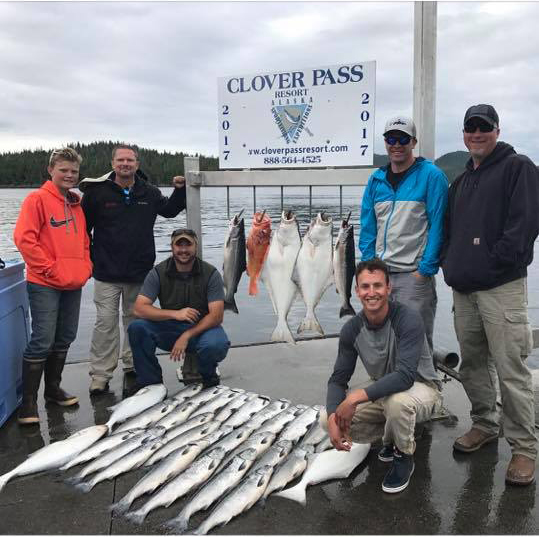 Why Alaska?
For many people, Alaska is often stereotyped as a frozen wasteland, filled with pick up trucks and icy beards.
What people don't know is that Alaska is unrivaled when it comes to nature with 17/20 of the nation's highest peaks, 3 million lakes, 3,000 rivers and more coastline (47,300 miles) than the entire continental United States!
As well as this, Alaska has some of the most sought after fish such as:
Pacific Halibut.
King Salmon.
Yelloweye Rockfish.
Pink Salmon.
Silver Salmon.
Ling Cod.
Chum Salmon.
26 Different Species of Cod.
With such natural beauty and a variety of game to catch, it is clear to see that it is a fisherman's (or fisherwoman's) paradise.
What should I fish in Alaska?
The age old debate usually boils down to salmon vs. halibut, but the reality is you can catch a variety of fish depending on what your goals are.
Salmon are fighters but usually are lighter than halibut, which can often weigh in over 400 pounds.
You need to ask yourself why you want to go fishing in Ketchikan in the first place.
Here are some common motives people have:
Fish for food. (Be sure to check out some of our recipes for inspiration.)
To have a challenging experience.
Bragging rights with awesome photos of a massive catch.
To enjoy nature.
If relaxation is what you're after, then salmon may be for you. On the other hand, a trip geared towards halibut may be more suitable for the bragging right hunters and story-seekers among you.
Why should you come fishing in Ketchikan Alaska?
Known as the "salmon capital of the world," it truly is a great place to catch salmon.
Once you get here, it is easy to see why with a vast range of recreational fishing opportunities, several of which are located in secluded wilderness areas, accessible only by boat or small plane.
However, it's not just salmon we are known for, as many of these areas are also prime halibut fishing spots.
Fishing is a massive part of the culture and industry of our 8000 people strong town. It's our passion, and we love to share that with others.
When should I go fishing in Ketchikan?
You should plan your trip depending on what it is you want to catch:
King Salmon season is from mid-May through mid-July.
Silvers are available from early July through September.
Pinks are available from early July through mid-August.
The Halibut fishing season is May right through to September.
No matter what it is, you're after the warmer months tend to yield the most success, which is great because you also get to enjoy the better weather.
What to expect when I go fishing in Ketchikan.
Here are a few of our pro-tips to get you to read up on what you should expect and how you can best prepare.
What you will need:
Equipment suitable for what you want to catch.
A Camera: for the bragging right photos!
Sunscreen: You'd be surprised how easy it is to get burnt on a long fishing trip here, even if it's overcast.
Waterproof clothes: We always say "expect the best but prepare for the worst." You never know when the weather might turn, so it's best to be prepared so bad weather doesn't take away from your experience.
Eat before and frequently eat during your trip: It can be hard work reeling in all those fish, so be sure to bring some snacks with you to keep up the energy levels.
Weather.
The summer is typically quite mild, with temperatures staying around the mid 60's while September and May tend to be cooler in the 50's.
Ketchikan is one of the rainiest spots in America so we suggest dressing in layers so you can best adapt to whatever environment is thrown at you.
Wildlife.
Although not guaranteed it is possible that you will see some wildlife other than the fish you are catching while fishing in Alaska.
In past trips, we have seen: Bald Eagles, Harbor Seals, Black Bears, Orcas, Humpback Whales, Sea Lions, Sea Gulls, Kingfishers, Ravens, Sitka Black Tail Deer… you just never know who will show up on the day!
Bringing fish home.
Here are the most up to date regulations of what you can bring home with you each day of fishing:
King Salmon: 1 per person over 28″.
Pink Salmon: 6 per person any size.
Silver Salmon: 6 per person any size.
Chum Salmon: 6 per person any size.
Halibut: 1 per person and they must be 44″ and under or 80″ and over, nothing in between.
If you require processing of your catch there are services in town that can take care of that for you and even ship them to your home.
Tips for catching salmon.
When it comes to maximizing your results fishing for Alaska Salmon you will need the following equipment:
Flies: be sure that they are large and bright.
A rod & reel.
A good sturdy line: we recommend above 20lbs for big catches.
Hooks and tackle.
Bait: Live herring works best.
Here are some other things you should take into consideration when it comes to fishing salmon:
Time of day: can be an important factor for salmon. Early in the morning or the evening tend to be when they are most active. Of course, you can catch them at any time, but this is their "rush hour."
Don't be fooled by their size: Alaskan Salmon are incredibly strong. They can swim upstream and jump nearly ten feet in the air to get past waterfalls.
They can see better than we can: Having incredible 300-degree vision may usually be a strength, but we can take advantage of this by using large and bright flies to lure them in.
Different types of salmon are more active in different seasons: be sure to do your research when planning your trip if you have a particular type you are after.
You need a king salmon stamp to catch king salmon: we always recommend getting one even if you aren't intentionally going after them as you never know when one might swim your way!
Tips for catching Halibut:
Here are some of our pro-tips for catching halibut when you come fishing in Ketchikan Alaska:
Ensure you have the right gear: Halibut can be much heavier and stronger than salmon so be sure to have a sturdy rod and strong lines that can put with a heavy haul.
Choose the right bait: Halibut hunt primarily through smell, so we often throw over some salmon heads to attract them in.
Dropping the bait: Once you're ready actually to drop your bait in the water, don't let it race to the bottom. Let your line out slowly and stop every 50 feet or so to minimize tangling.
Don't jerk the rod: If you feel a Halibut biting your rig, resist the temptation to jerk the rod. Instead, allow the fish to fully consume the bait then gently pull to set the hook.
Lower your rod tip: Halibut will often make a run for it, be sure to lower the rod tip and lighten the drag so that your line doesn't snap.
Patience: the size and strength of halibut cause them to be tough fish to catch. Having patience is your key to success. By reeling the fish in slowly and taking breaks, you will ensure that you tire the fish out – not the other way round! It also makes boating a halibut safer if it is tired.
Why you should come fishing in Ketchikan Alaska with us!
Get access to the best spots:
Our drivers and guides have been fishing in Ketchikan, Alaska for years, meaning that they know the best spots to take you and how to keep you safe.
We take care of the gear.
When you book a trip with us, you won't need to worry about bringing the right equipment with you as we can take care of that all for you.
That way, you can travel light, save money, and enjoy using high-quality gear for catching halibut or salmon.
We'll show you the ropes.
It doesn't matter if you are a first-timer or a seasoned pro, our experts will show you the ropes and reveal all our insider tips so that you can maximize your results while fishing in Ketchikan Alaska!
We are experts in our field.
We are experts in safety and be relied on to ensure your trip is a secure and enjoyable one.
We have something for everyone.
We have a wide range of options available that will accommodate you if you want to catch salmon, halibut, charter your boat or make a fishing trip part of your cruise.
Enjoy yourself.
Last but not least, the most important step when going fishing in Ketchikan, Alaska, is to enjoy yourself!
With beautiful scenery, amazing people, and most of all, great fish you are in for a treat.
If you would be interested in joining us out on the water, be sure to contact us for more information. We would be more than happy to talk you through our different services to ensure you can have the perfect experience.
Thanks for reading 'The First-Timer's Guide to Fishing in Ketchikan Alaska.' We hope you found it helpful and look forward to fishing with you soon.