The Different Kinds of Ketchikan Fishing Charters
Ketchikan Fishing Charters seem like the run of the mill until you've arrived, Ketchikan may seem like it's a mere destination on a long list of cruise ship ports.
But we're so much more than a cruise port town – though, we love our cruise visitors – we're also the world's salmon fishing capital. A bit of bait and a little effort will catch you a king salmon at any time of year. During the peak season, you're as likely to catch them with your bare hands.
Ketchikan fishing charters are a favorite way for visitors to spend time in our little corner of the state.
They make a great excursion for those who have only a few hours with us or those who plan to spend a few days or even weeks on our shores.
Because we have so many fish and offer trips throughout the year, there are many types of Ketchikan fishing charters to choose from.
We know you have plenty of other things on your mind while planning the vacation of a lifetime, so we've simplified some of the options for you.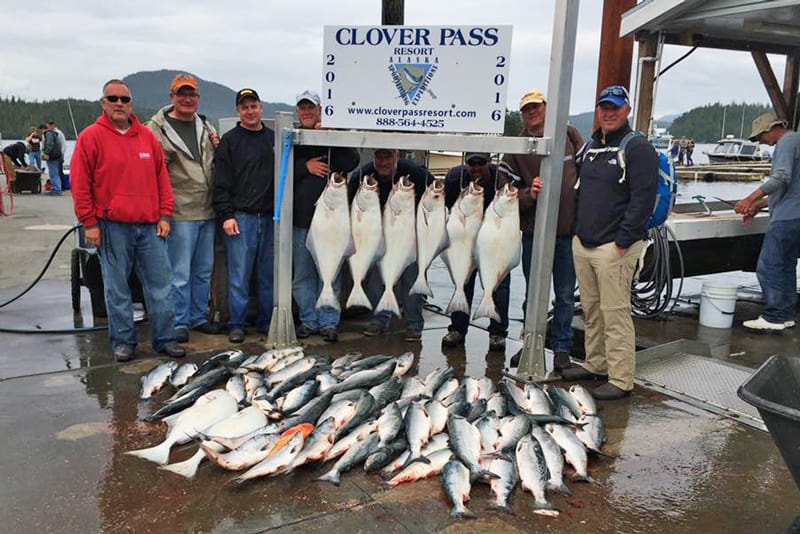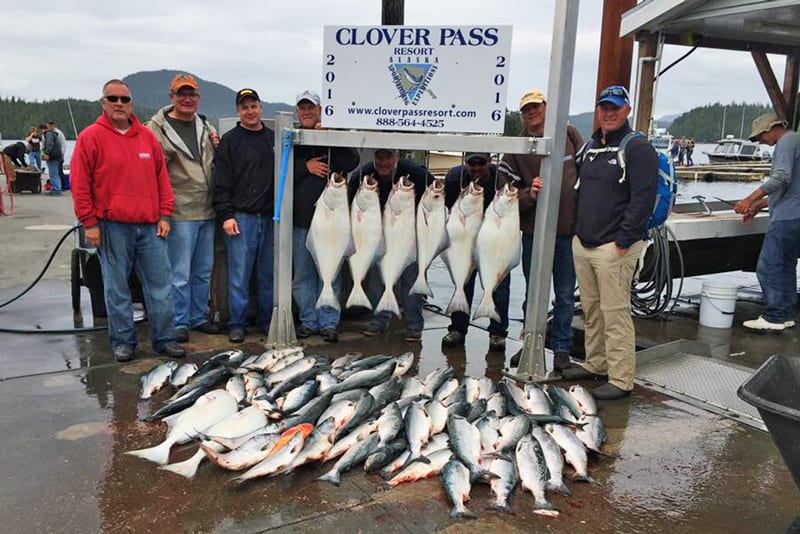 Our Favorite Ketchikan Fishing Charters
Ketchikan is a popular fishing destination for hobbyists and professionals alike. Because the fish are abundant, many local companies offer a number of different Ketchikan fishing charters.
Whether you're visiting the bay for a few hours or a few days, we're focused on creating an experience you'll never forget.
Different charters offer different opportunities. Do you know what the best charter is for you?
Here are just a few of our favorite types of charters:
Four Hour Salmon Charter – Best for Limited Time
The four-hour salmon charter is the most popular charter among cruise ships because it's short enough for you to enjoy a morning or afternoon on the water without neglecting the rest of the area.
We stay close to home to maximize fishing time without causing any late returns to ships or delayed onward journeys.
In fact, we're often able to push off the dock and let 'em fly.
So, if you're coming in for a few hours or you're not sure how you feel about fishing but want to give it a try, come out for a four-hour charter.
Six Hour Salmon Charter – Best for Day Trips
A six-hour salmon charter is similar to the four-hour cruise, but there's more freedom to move around, and you'll obviously get a few extra hours on the water.
We recommend the six-hour trip for our day visitors who aren't worried about visiting other sites in the area.
While you might be worried about missing out – don't be. With a full six hours on the water, you'll be able to see more than just salmon. Lucky passengers may even have enough time to spot a humpback whale
Four/Six Hour Halibut Charter – Best for Challenge Seekers
If you want a four-hour charter but you're hoping for halibut, we take a slightly different approach.
Unlike a salmon cruise, we have to make a 20-minute run and anchor the boat offshore before fishing. Unfortunately, there are few exceptions: catching halibut, rockfish, or lingcod requires some jigging.
Halibut is abundant, but we're not exactly drowning in them. If you want an added challenge, go for rockfish or lingcod. Just make sure you come during the season if you want to feel a tug on your line.
Private Ketchikan Fishing Charters – Best for Fishing Enthusiasts
If you've got the time, we've got the lines.
A private charter is the best option for guests who are hoping for a full-day experience. While we stay close to home on the four-hour charters, day-long private trips give us the freedom to explore.
In fact, Ketchikan fishing charters may perform a run as far as 2 1/2 hours – each way. With the whole day at our disposal, we're able to go where the fish are biting, which means you'll have the opportunity to hone your skills and walk away with several different types of fish.
Choose a Multi-Day Charter – Best for Full Vacations
Are you an avid fisherman looking for the vacation of a lifetime? Bring some friends and hire a charter for two or more days – even a week.
When you choose multi-day Ketchikan fishing charters, you're able to fish for many different types of fish both on and offshore.
Multi-day charters aren't just for the enthusiasts or pros. If you're new to fishing or hoping to try it out for the first time, this is the perfect option for you. You'll have time to learn and practice the basics and transform yourself from a newbie to a seasoned sportsman over the course of a few days.
We also recommend these charters because while there's nothing like heading out on the boat for the afternoon, a week-long journey allows you to fish day or night.
You'll have the option to spend your days with a rod in hand or spend the night enjoying the pristine Alaskan wilderness.
If you're coming to us as a beginner, we recommend booking Ketchikan fishing charters during the summer. Not only is this the peak fishing period for all our local fish, but the weather is significantly better. With winter comes more severe storms and rough seas, which adds an extra challenge to your adventure.
When to Book Ketchikan Fishing Charters By Fish
Hoping to catch a specific fish? Increase your chances of a good haul by booking your Ketchikan fishing charters when the fish run.
Alaska's Department of Fish and Game keeps an accurate calendar for Ketchikan and fresh and salt waters across the state. Find your favorite fish and do your best to book during peak periods for the best luck out on the water:
King Salmon
Here in Ketchikan, we're fortunate enough to see a good supply of king salmon year round.
Book a four or six-hour charter anytime between January and December for a chance at taking home a few of these fantastic fish.
If you're hoping for a big haul, head out on the boat between and May and July during peak availability.
Sockeye Salmon
Sockeye salmon aren't an easy fish to catch, but if you're set on reeling one in, book a cruise between June and August for a better chance.
Chum Salmon
Chum salmon enjoy the warmer waters of the mid to late summer. Grab your chance to catch one of these between June and September with peak availability between July and August.
Pink Salmon
Pink salmon are also found during the summer months.
Your best chance lies somewhere between June and the end of August with the best times to hit the water lying between July and August.
Halibut
Like the king salmon, the Ketchikan waters are home to halibut year round, so you'll always have a chance to bring home a prize catch.
Peak availability is slightly later than that of salmon. Our guests see their best results between June and September.
Rockfish
Hire Ketchikan fishing charters at any time of year, and you'll have a chance to catch a rockfish.
Rockfish are less available than halibut, but they do peak at the same time: between June and September.
Lingcod
Lingcod are also common in our little patch of saltwater. Like halibut, king salmon, and rockfish, these fish are available year round. However, unlike the other fish, lingcod don't have a peak season.
Dolly Varden
Salmon, halibut, rockfish, and lingcod tend to steal all the glory. But the Ketchikan waters are also home to a year-round supply of Dolly Varden.
A Day on the Boat: What to Expect on Ketchikan Fishing Charters
Many of the guests who arrive on our docks have never been out on a fishing charter – much less Ketchikan fishing charters – before. Rather than watch you squirm like bait, we thought it'd be helpful to tell you a little bit about what to expect on your trip.
Before You Arrive
We ask each of our guests to begin preparing for their day on the water before you arrive so we can all make the most of our big day out.
Purchase a fishing license from the State of Alaska before you arrive at our docks. It's possible to buy a license online or on-shore, but you must purchase one if you want to head out on the water with a rod in hand.
We ask you to purchase a license before you arrive because although it's possible to issue one on-site, you'll waste valuable time doing paperwork. You didn't come here to fill out forms – you came to fish!
The second thing we need from you is simple: dress appropriately. The weather in Alaska can turn quickly, and while we keep enough rain gear for our guests on board, it's not enough to protect you from the elements.
Come with thermals, sweaters, hats, and gloves, especially if you're arriving in the spring or autumn.
Arriving for Ketchikan Fishing Charters
Making your way to our docks couldn't be easier. If you're one of our cruise ship passengers, all you need to do is hire a taxi at the port and tell them you're visiting Oasis Alaska Charters.
We don't want to brag, but we're pretty popular around here. The taxi driver will know right where to take you – to Clover Pass Resort.
Driving yourself? Simply make your way to the dock in your own vehicle. Don't forget to contact us before setting off if you need directions.
Once you've arrived at Clover Pass, head down to the docks to look for your captain. Sometimes, your captain will have some spare time and will meet you on the dock, but often you'll need to hunt them down. Keep your captain's name in mind and ask the Clover Pass staff where you need to go – they'll happily point you in the right direction.
On the Boat
Once we're on the boat, anything can happen. We covered most of what you'll expect above.
We aim to leave on time to make sure you get plenty of time to fish – and to have you back to the dock on time.
If you took a taxi to us, your taxi driver will meet you back at the dock.
What You Need to Bring
We provide everything you need for the perfect day out, but we do ask that you bring a few extras to make your experience more enjoyable.
Fishing license
Sunblock
Sunglasses
Camera
Gunnysack
hat
Hand towel
Seasickness pills
Get a good night's sleep the day before you join us on the boat. Avoid overindulging the night before and limit your alcohol consumption. We know you're on vacation, but hangovers and rough seas don't mix!
What to Wear on Ketchikan Fishing Charters
Anything can happen at sea, so we recommend coming prepared.
T-shirts and trousers are a good, standard outfit for fishing on our boats. We also recommend a sturdy pair of shoes; consider bringing some boots in your luggage to protect your feet and give you extra grip. Of course, you'll also bring a hat and sunglasses.
Wear things you're not afraid to get wet. If you already have your own pair of waterproofs – both a coat and pants – bring those, too. Otherwise, we keep some weather-proof clothing on board.
Don't forget to pack for the seasons. The weather in Alaska is more unpredictable as autumn begins to turn to winter, so don't be afraid of overpacking for your day out.
Finally, bring an extra set of clothes, just in case. If the weather turns, we may still get a bit wet, and you can't simply hop into the shower to warm up. You might also like an extra set of clothes in case you choose to go for dinner once you arrive back at the harbor.
Book Ketchikan Fishing Charters Today
Imagine feeling a tug on your line. As the tug turns into a pull, you realize you've got something special.
Whether you've caught one of the millions of king salmon roaming our waters or you're about to reel in a 135-pound halibut, there's nothing like the feeling of the first catch out on the water.
Visit us in the Salmon Capital of the World. Whether you're visiting for a few hours or a few days, get in touch to start booking the fishing experience of a lifetime.