When is the best time to fish?
***Please note that May is considered early in the season, so fishing could be good or not so good depending on what the fish are doing.
Below is a chart that is specific for our area: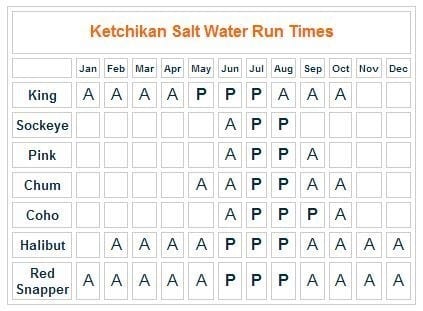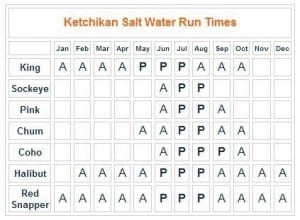 A = Available
P=Peak (Best time to fish)
Is it common to tip the Captain?
If the captain has done a good job for you then yes please tip them, it's part of his wages.
When people ask me how much to tip, I tell them it's like going out for a nice dinner and 15 -20% is normal.
How do we get to the boat?
The boat is moored at Clover Pass Resort Marina.  It's about 15 miles north of downtown Ketchikan Alaska.  Most guest call one of the local cab companies or rent a car.
How much is the cab ride to Clover Pass Resort?
 The taxi is a flat rate for up to 6 passengers ($70.00 round trip $35 each way) when you arrive at Clover Pass Resort, our experienced Guide will meet your party at the top of the ramp.  You can reach Sourdough Cab at (907) 225-5544 to arrange pickup times.
What are the biggest advantages of fishing out where you are instead of getting a charter in town?
Price! Charters on the north end of town cost less, anywhere from $35.00 to $60.00 per person.
We are on the prime fishing grounds, unlike the charters in town where they have to run at least 30 minutes each way to get to the fishing grounds.  This takes away from your fishing time.  Unless they start fishing you right by where the ships docks and where the fish are not really around.  A 4-hour trip is only going to be at best 3 hours of fishing where as your 4-hour trip from us will be 4 hours of fishing.
The tax rate in town is 6.5% and out where we are it's 2.5%
What will the weather be like?
Plan for RAIN!  The Tongass National Forest is a temperate rain forest.  Our coldest month is January (median temperature 33 degrees) and our warmest month is July (median temperature 58 degrees).  Average annual rainfall for Ketchikan, Alaska is around 13 feet!  Marine forecast for our area can be checked here (NOAA Weather).
What should I bring?
We recommend dressing in layers and having light-weight, breathable rain gear.
Charter boats provided rain gear if needed.
Camera and maybe a GoPro
Sunglasses (yes, the sun does shine here and, even when it doesn't, light can be bright reflecting off water)
Sunscreen.
CASH for fishing licenses or you can buy them on-line from State of Alaska, If you buy it on-line DO NOT forget to bring it with you, because you cannot fish without one.
Should I bring my own rod and reel?  Tackle?
We provided all gear needed but if you want to fish with your favorite rod and reel you are more than welcome to bring it.
Home many salmon and halibut can we catch?
I would encourage you to read the State of Alaska Department of Fish and Game regulations can be found on-line or at Clover Pass Resort store.  You can download a pdf form of the Southeast Alaska regulations booklet.

| | | |
| --- | --- | --- |
| King Salmon |   | 1 per person over 28″.  Sometimes they open up Terminal areas that would allow more. |
| Pink Salmon |   | 6 per person any size. |
| Silver (Coho) Salmon |   | 6 per person any size. |
| Chum Salmon |   | 6 per person any size. |
| Halibut |   | 1 per person and they must be 38″ and under or 80″ and over, nothing in between. |
Learn more about Salmon Fishing in Ketchikan, Alaska
Do you provide fish processing?
Clover Pass Resort can handle all your processing needs.
When we pull back to the dock with your catch you can arrange to have it processed the way you want it and have it shipped back if needed.
Will I see wildlife?
If I was a betting person I would bet on seeing some wildlife like: Bald Eagles, Harbor Seals, Black Bears, Orcas, Humpback Whales, Sea Lions, Sea Gulls, Kingfishers, Ravens, Sitka Black Tail Deer… you never know what you might see!
Why does Halibut fishing cost more then Salmon fishing?
We have to either buy or lease a Halibut permit that allows us to keep Halibut that we caught.

To lease a permit for the season costs about $6,500.00 per boat.
To buy a permit costs around $120,000.00 to $130,000.00 per boat.

We have to run further away to catch Halibut, so we burn more fuel.
Can we keep a Halibut that we catch while we're on a Salmon charter?
You can keep the Halibut as long as it's in the legal slot size and the boat you're fishing on has a Halibut permit onboard at the time the Halibut was caught.
If we do not have a Halibut permit onboard the boat at the time the Halibut was caught we cannot keep the Halibut.
What is the cost of the fishing license for 2021
1 day sport fishing license $15.00

1 day King Salmon stamp $15.00
A King Salmon stamp is required if you want to keep a King Salmon.  You can get your license online from the State of Alaska Department of Fish and Game here, Your license needs to be printed or signed on your phone.  If it's not signed on your phone it's not legal and we cannot use it until it is signed. 
Can we drink alcohol on the boat?
Yes as long as you're 21 or older you are more than welcome to bring your favorite beverage.  We do not provide alcohol, but you will pass two liquor stores on your way to the marina.  Just have the driver stop at one on the way to the boat and pick some up.
Is there a head (toilet) onboard?
Yes we do have a head onboard each boat.
Do my children need to wear a live jacket on the boat?
Kids under the age of 13 must wear a life jacket at all times on the boat.  We encourage you to have your children put the life jacket on before they go onto the dock.  There is a bin of different sizes at the top of the boat ramp.  Kids don't float program.
Do I need to wear a life jacket?  You are not required to wear a life jacket but if you would like to you are more then welcome to wear one.  We have lots on the boat or at the top of the ramp.
Can we stay longer then the chartered time?
Yes as long as we do not have another charter following yours you can stay as long as you would like.
The Captain can adjust the pricing as needed.
How many other people will you put on the boat with us?
We will not add anyone to your charter unless you request it.
We only run private charters because we feel it gives our customers a better experience.
Your fishing experience with us is very important to us and want you to enjoy yourself.
Can I add or subtract people from my charter after it's booked?
The short answer is yes you can, but things to keep in mind.
Please let us know before the day of your charter, so we can make sure we have what is needed on the boat.
We can only carry a maximum 6 people per boat.
If you book your charter for 2 people and add more people your price per person will drop down to the current rate for your group size.
If you booked your charter for 4 people and but other do not want to go then your price per person will most likely got up based on your group size and current rate.
You will not need to give us more of a deposit in most cases unless you need more than one boat.
Can we shorten our trip if we want to?
We offer 4, 6 and 8 hour trips, if you want to cut your charter short that's fine with us but there will mostly not be a refund.
Do you guarantee we will catch fish?
No we do not guarantee you will catch any fish.
We do guarantee we will do everything we can to give you the best chances in catching fish.
What are the biggest mistakes people make:
One of the biggest mistakes people make is they think because this is Alaska the fish jump in the boat, that is just not the case.  We still have days that we do not catch fish and we have days we kill it.  We are very good at what we do and work very hard to produce fish.
People tend to jurk the pools way too hard and that pulls the hooks from the fishes mouth.
Should we get trip insurance?
We suggest that customers purchase travel/cancellation insurance through their travel agent or through a reputable internet travel insurance company, like www.insuremytrip.com. Travel insurance can cover costs associated with flight cancellation and lost baggage, as well as providing a full-refund of your fishing package should a family emergency, personal health issue, or other event either interrupts your trip or prevents you from visiting us.