Oasis Alaska Charters 2017 Season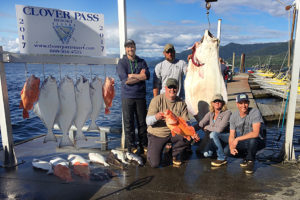 We want to give a big thank you to all of our customers here at Oasis Alaska Charters.
The 2017 season has come to an end but what a year it was. Even with Ketchikan having the rainiest summer in 50 years we had a good year.
Our team did a fantastic job this season, and a big thank you goes out to our captains, Captain Murray Easter, Captain Logan Carlson, Captain Thomas Moonley-Myers and Captain Desmond Chattleton, these guys rocked it!
Each and every one of them did a fantastic job, those of you that have had the pleasure of fishing with them know exactly what I am talking about. These guys worked hard to get all of you the trip you wanted and hoped for despite the bad weather. Ketchikan is not an easy place to fish, we have to deal with rain, wind and extreme tides.
We had our slow days and stellar days of catching fish, but for us our focus is to do our best to give our customers a trip they can talk about for years to come. Were we able to make everyone happy, no but we do try very hard.
We did try something different this year and that is to keep track of our fish counts and put them out so everyone can see what we are doing. This gave our customers and anyone wanting to know how the fishing is going.

If you have not had the chance to see our 2017 fish counts you can check it out here. You can drill into each month and day to see what happened. We also wanted to point out that these are not just random fish numbers added to each day, they are in fact the same numbers that are required to be entered into our State of Alaska log books that each of you had to sign. It will be fun to see how next year will stack up to this year.
We are now taking reservations for next season, and the early bird gets to pick the best dates.
We hope to see you back again soon.
Oasis Alaska Charters.