2017 Ketchikan King Salmon Derby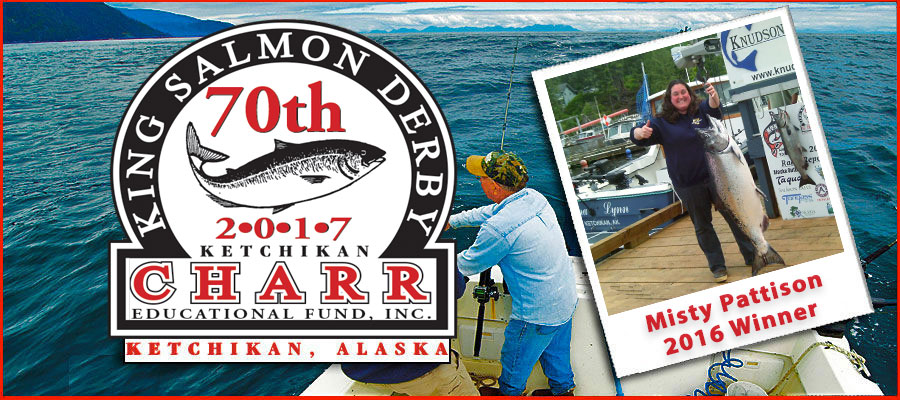 Calling Anglers,
The 2017 King Salmon Derby in Ketchikan is only 79 days away, it starts May 27th and will run for 3 weekends.  We are celebrating the 70th Ketchikan King Salmon Derby this year.
The 2017 Ketchikan King Salmon Derby will be held:
May 27, 28 & 29th
June 3 & 4th
June 10 & 11th
In 2016 Misty Pattison won the grand prize for $10,000 with a 48.6 lb. King Salmon.
The Ketchikan King salmon derby is a big deal for a lot of residents of Ketchikan, they wait all year for the derby to start.
When I grew up in Ketchikan and was able to afford to have my own boat it was a big deal for us.  Once the gun goes off at 7 am each of the 3 Saturdays we would fish almost all night long for the 2 or 3 days.  We would each take short naps while the others on the boat watch the poles, of course you really sleep with one eye open because you just don't want to miss the salmon bit.  There is a lot of day light (17 hrs) in May, the sun will rise around 4:15 am and set around 9:15 pm.
The derby really starts the fishing season in Ketchikan and the fishing starts to pick up as it progresses into the summer.
Since the derby got its start in 1944, both the lucky and the skilled have enjoyed winning all the prizes that are donated.
You should come out and join us some time, you just never know you could be the big winner, or just have a great time.
Give is a call if you would like to give it a shot.