7 Reasons to Go Salmon Fishing in Alaska
Did you know that Ketchikan, Alaska is called the salmon capital of the world?  It's true.
In recent years, Alaska has already become an incredibly popular tourist destination.
While there are countless incredible sites to see, most people come to Alaska because they want to spend more time in nature. One of the best ways to take a break from city life, or simply connect more with the world around you?
By going salmon fishing in Alaska.
Here, we're laying out seven reasons why salmon fishing in Alaska is something you just can't miss.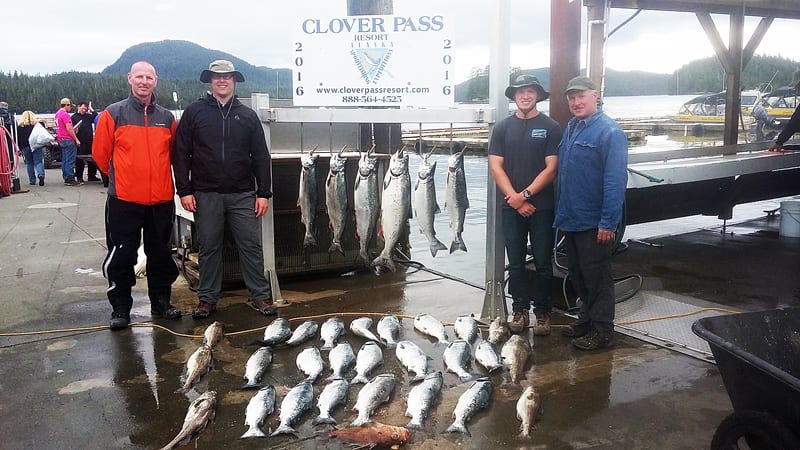 1. You Can Go Throughout The Year
Though salmon fishing in Alaska takes place throughout the year (we don't take days off, and neither do salmon!) the type and size of fish you're aiming to catch may influence the specific time of year you book your trip.
Why? Because salmon swim according to the water level and temperature, so the path the fish take will be different depending on the season.
If King Salmon are your game, you'll likely want to go between May and July. For sockeye, head out to Alaska during either July or August. For silver coho salmon, July through October is your best bet.
The takeaway here? No matter when you book your trip to go salmon fishing in Alaska, you'll always have something to catch. If you're really brave, try ice fishing in the coldest months!
2. You'll Learn Life Lessons
We're not just talking about the crazy and entertaining stories your fishing guide will more than likely tell you!
Fishing, no matter where you do it (but especially in Alaska) teaches you valuable life lessons, most of which you come to on your own.
First of all, you'll learn how to be patient. Sometimes, it can feel like you've been waiting for a while for that big catch, or that today just isn't your lucky day. But fishing is about perseverance, and developing this skill will serve you incredibly well in other aspects of your life.
You'll also learn valuable survival skills, like how to keep warm, how to start a fire, and how to clean a fish. Survivalism is a trend that's on the rise, especially in the United States.
Going fishing will likely help you to discover other passions and hobbies that you didn't even know you had! You'll want to book another trip before you know it.
3. It Takes The Edge Off
These days, it seems like we're tied to our cell phones. Anybody can reach us at any time, we're obsessed with how we look on social media, and we're constantly stressed about work.
Going salmon fishing in Alaska is a great way to disconnect from technology, de-stress, and focus on the beauty that's in front of you – not on a screen.
4. Because There's Nothing Like The Thrill Of The Hunt
Wouldn't it be great if, instead of relying on action movies and video games, you got to experience a thrill that was of your own making?
Salmon fishing in Alaska offers all the excitement of the kinds of adventures you used to dream about going on when you were growing up.
First, you'll explore new territories, cut through the water, and see incredible natural sites.
Then, you'll get a rush of excitement from the actual fishing itself. There's nothing like the thrill that comes with finally reeling in your first big catch!
If it's been a while since you've felt a genuine sense of accomplishment and pride in yourself, a fishing trip is like a miniature, weekend-long quest of self re-discovery.
Plus, you'll surely walk away with some awesome pictures to hang on your wall at home.
5. It's Good For Your Health
You may not associate fishing with a workout, but once you've tried to reel in a huge fish that's fighting you tooth and nail, trust us – you will. Instead of picking up fast food or heading to the grocery store, catch your own dinner.
It will also help you to be more selective and conscious of the food you eat in daily life. Plus, the fresh, crisp air will do you a world of good.
6. It's A Great Way To Reconnect
Few things make us happier than seeing old friends, or even couples, reconnect on a fishing trip.
Going salmon fishing in Alaska is an incredible bonding experience, as you'll have lots of time to share stories, offer each other tips, and laugh about old memories while you're making new ones.
If you've got a friend you haven't seen in a while, why not invite them to join you?
7. You're Contributing To Conservation
When you go salmon fishing in Alaska, you're not just reconnecting with nature and honing your catching skills – you're also a part of the greater good.
Because you may have to purchase fishing licenses or pay special taxes, you'll likely see some of those profits invested back into the fishing areas you so enjoy.
Plus, you're teaching yourself and any family members you brought with you about the importance of hunting your own food. Not only does eating what you've killed cut down on waste, it also gives you a profound respect for nature and the cycle of life.
Ready To Embark On Your Salmon Fishing In Alaska Adventure?
Sure, salmon fishing in Alaska may be a multi-billion dollar industry, but it's also an incredible personal experience – as we're sure this article has convinced you.
Whether you want to take some time to yourself and fly solo, or if you want to make memories on an unforgettable family vacation, this will surely be the trip of a lifetime.
There are lots of different fishing spots in Alaska, and we want to make sure you have the chance to experience as many of them as you'd like to. Still, in some cases, the only way to do that (and to do it safely) is to ride with a guide.
That's where we come in.
For more information on how to book your fishing adventure, or to get any additional questions answered, please browse through our website and contact us.