Add Ketchikan Alaska Fishing to Your Excursions List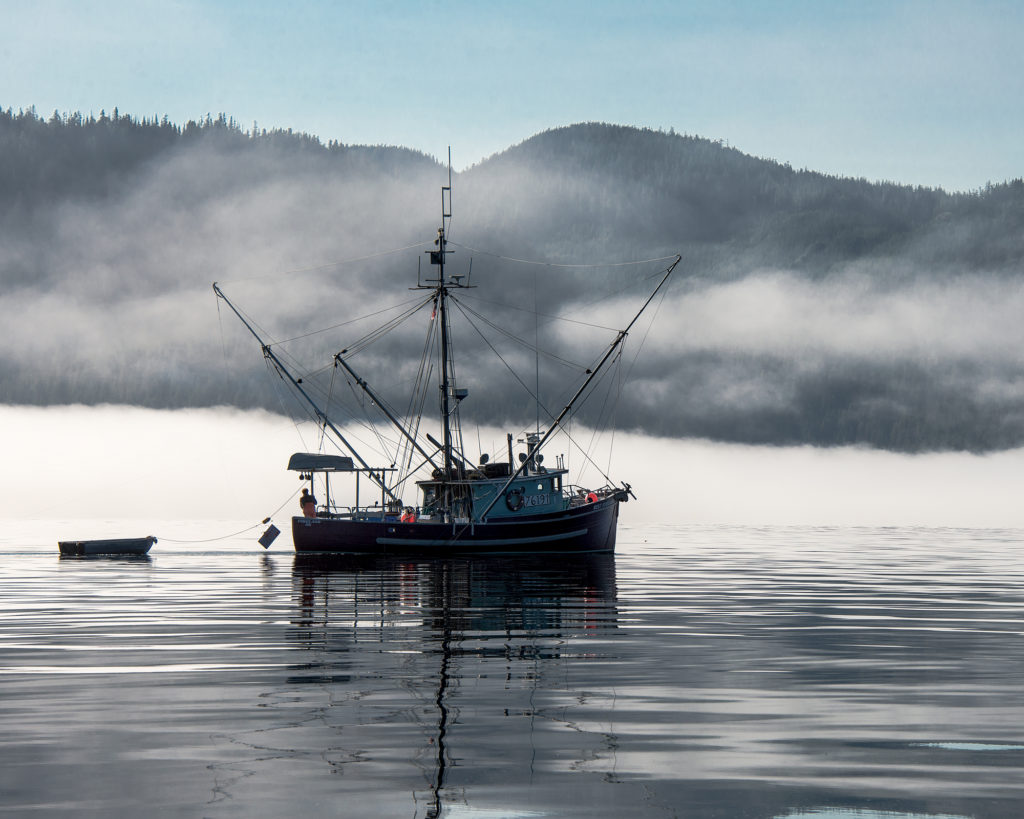 Your Ketchikan Alaska Fishing Trip Starts Here
With a cruise comes a lot of choices.
What will you have for dinner? ("Everything" is a pretty safe bet!)
What show will you see tonight? (Go for the hypnotist or karaoke!)
And, most importantly, what will you do with your port time?
When it comes to your time in Ketchikan, the answer should be simple: fish.
Some of the best fishing you'll find is Ketchikan Alaska fishing, with the marine waters in the Ketchikan area supporting all five Pacific salmon types and plenty of other fish.
In this post we'll take a closer look at the types of fish you might find on your Ketchikan Alaska fishing trip, the best times to come, and what to do around town before your fishing trip starts or after you've hauled in the one that most certainly did not get away.
So pack up your raincoat and get ready to reel in some big memories.
Ketchikan Alaska Fishing Year Round
One of the best things about the fishing in Ketchikan is the variety of fish you can find.
Even better news is that all of these fish are active at different times of the year, which means no matter when your Alaska fishing trip is, you'll be sure there will always be some great fishing.
The waters off of Ketchikan are host to seasonal fish like salmon and halibut and home to year-round varieties like rockfish. There is always something in the water that's willing to give your line a nibble.
King Salmon
Also known as Chinook salmon, this is the largest variety of Pacific salmon and this type of salmon can be found in Ketchikan all year.
This type of salmon has cultural significance to many of the native tribes in the area, some of whom still celebrate "first-salmon" ceremonies each year.
But most people nowadays spend more time celebrating the rich flavor of the king salmon than its status as a cultural symbol. King salmon is a staple in restaurants throughout the area.
Spawning typically begins in the middle of May, with the bulk of the King salmon population moving through from the middle of June to the middle of July, making this the optimal time for a fishing trip.
Being the largest of the Pacific salmon, it isn't uncommon to hook a 60-pound fish and spend a fair amount of time fighting with it before it is finally pulled into the boat.
If you're looking to hook a fish that's going to give you a run for your money, this is it.
Silver Salmon
Silver salmon, which also sometimes known as Coho salmon, earned their name because of their telltale silver sides and dark blue backs. This variety of salmon, much like the king salmon, is renowned for its relatively high fat content, which is a huge asset in the flavor category.
Much smaller than the king salmon, silver salmon weigh in around silver to eleven pounds when mature.
Luckily they still pack a punch when they're on the end of your line!
You're most likely to find a silver salmon on the end of your line from the end of June through October.
Pink Salmon
Pink salmon have earned themselves the fitting if unflattering nickname "Humpback salmon" or "Humpies" for the large hump that males develop during spawning season.
While some fish snobs turn up their noses at pink salmon for their size, these fish are a great introduction to your Alaska fishing trip if you aren't quite ready to hook that monster yet.
Aside from that, pink salmon have a great flavor and are particularly popular for smoking or salting.
Typically these salmon grow to be around five pounds. The record holding pink salmon weighed in at 15 pounds and 30 inches.
Do you think you can reel in the next record breaker on your Ketchikan Alaska fishing trip?
If so, you can find Humpies throughout July and August.
Chum Salmon
This salmon gets its name from the indigenous Chinook word for "spotted" and is probably not what you typically think of when you think of salmon.
When in the ocean, chum salmon have a silver and blue coloring with darker spots along their sides. When they move upstream to spawn, the adults develop purple blotchy streaks and are darker in color toward the tail.
Chum salmon live an average of four years and can grow to be more than twenty pounds. They hold the record for having the largest natural range of the five types of Pacific salmon and have the longest migration routes.
While these salmon are the least commercially fished, they still make for some great pictures if they end up on the end of your line during your Ketchikan Alaska fishing trip.
Chum salmon, like the pink salmon, are most commonly found throughout July and August.
Sockeye Salmon
The Sockeye salmon is what comes to mind for most people when they think of salmon and it's the fish most salmon fishers hope to reel in. Known for the bright red color that can be seen during spawning, the sockeye salmon is also commonly called "red salmon."
Some populations, known as "kokanee salmon," do not migrate to the ocean, but instead spend their entire lives in fresh water.
However, for the sockeyes that do make their way to the ocean, their return to fresh water will be short-lived as they die shortly after spawning.
Sockeye salmon are considered an endangered species in the Snake River in Washington, but the species has made some progress in the last few years and in Alaska they remain one of the most popularly fished salmon varieties.
Your best chance to reel in a sockeye salmon will be in July and August.
Halibut
Halibut turn the term "big boy" on its head. If you're hoping to catch a big boy, you're actually hoping a lucky lady ends up on your hook. That's because the male halibut only reach about 60 pounds, while the females can weigh upwards of 600 pounds.
Another interesting trait of this deep sea fish is the fact that it lays flat on the ocean bottom, rather than swimming upright, and both eyes are the same side of its head.
If you're hoping to land a large halibut, the best time to plan your Ketchikan Alaska fishing trip is between May and September. If you can time your trip just right, try to get your line in the water just before, during, and after high slack tide. This is when the water will be lowest, allowing your line to reach the bottom where the halibut are found.
If you're looking for a catch and release fishing trip, halibut are a great option. Because they don't have a swim bladder, it is believed that halibut that are released after being caught have a 95% survival rate.
Rockfish
While most people who plan a Alaska fishing trip are hoping to land the biggest fish possible, there's always a chance of hooking a marine interloper like the rockfish.
There are several species of rockfish that live in the waters around Ketchikan and most of them have year round seasons — so think of them as a bonus and a little break from reeling in the monster salmon that are on your mind.
If you have your heart set on a lingcod, you're going to want to come after the July 1 season opening.
You can keep up to one lingcod and four rockfish, so let's get those hooks in the water!
Other wildlife
Visit Ketchikan's website points out that even though there's never been an official wildlife census, it's safe to say that animals outnumber people.
Marine life is no exception and your trip will double as a wildlife spotting trip if you keep your eyes open.
Among the many sea animals you may encounter are Orcas, humpback whales, sea lions, seals, sea otters, river otters, and porpoises. Don't forget to look up for bald eagles and the other 100 species of migratory birds that pass through the Ketchikan area.
After your Alaska fishing fun
Charter fishing trips usually last four hours, six hours or all day, so you'll have plenty of time left after fishing to explore Ketchikan.
Among the must-sees of Ketchikan is Creek Street, a pedestrian-only street lined with shops, restaurants, and art galleries in original wood-framed houses built on stilts. Take a minute to marvel at some of the totem poles that Ketchikan is known for.
Depending on how long you have — and how tolerant you are of the cold — you might be interested in getting a closer look at some of those marine animals you glimpsed on your fishing excursion by taking the plunge yourself. Snorkeling trips aren't for the faint of heart but can be a great way to see an otherwise hidden side of Ketchikan.
For a break from adventuring and to pack as much into your remaining time as possible, try a trolley tour of Ketchikan and see if you can spot any of the land-bound wildlife the area is home to.
Since your time is limited by the cruise ship schedule, you want to be sure to book a trip with a charter company that can accommodate your timeline.
It's "reel" easy to book your  fishing trip and it's smooth sailing from there.