August 02, 2017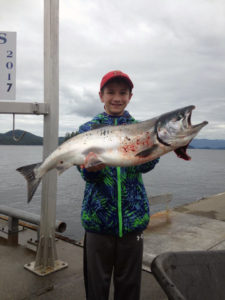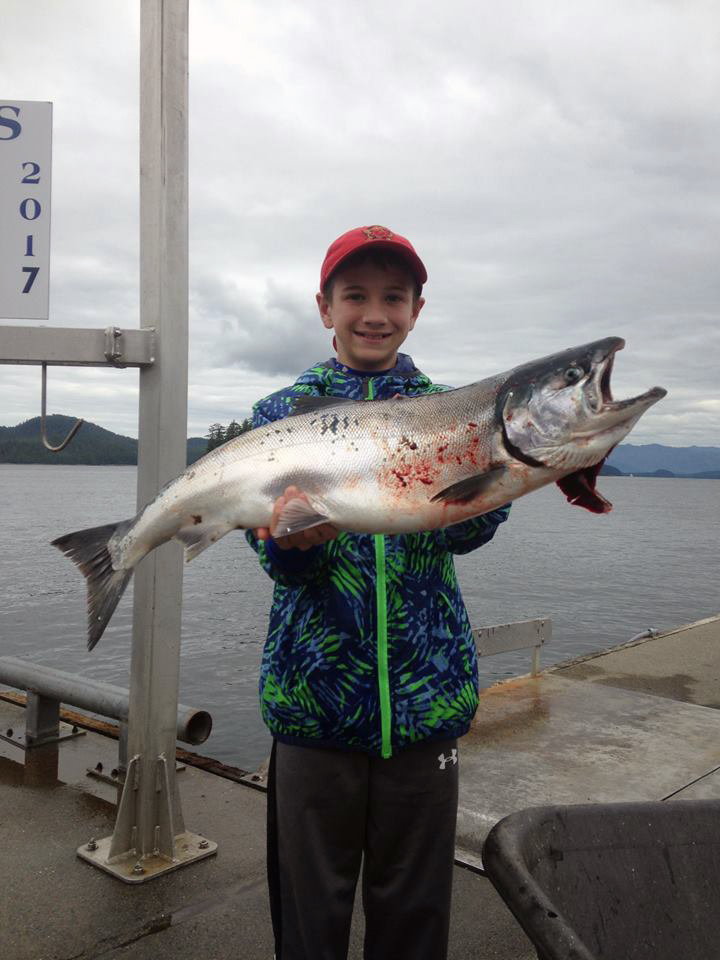 Chinook salmon
The king salmon peak has passed, though marine anglers are still finding a few kings. The majority of the king salmon harvest occurred in the southern outside waters near Cape Chacon, Duke Island, and the Percy's. A few kings are still being picked up in Clover Pass, Mountain Point and along Camano.
Anglers are advised that king salmon restrictions are still in effect in the Ketchikan area sport fishery through August 14 in order to reduce the harvest of Unuk River king salmon and ensure the Unuk River king salmon escapement goal is achieved in 2017. Please refer to the news release and map for description of areas with reduced limits.
The Ketchikan Sport Terminal Harvest Area has closed. As of August 1, regionwide bag and possession limits for king salmon apply in the Terminal Harvest Area.
Alaskan resident: The resident bag and possession limits is two king salmon, 28 inches or greater in length.
Nonresident: The nonresident bag and possession limit is one king salmon, 28 inches or greater in length. The nonresident annual limit is three king salmon, 28 inches or greater in length. Nonresident anglers shall immediately record, in ink, all king salmon harvested either on the back of their sport fishing license or on a nontransferable harvest record.
Thomas Basin is open year-round seaward from the Thomas Basin Bridge to the breakwater.
A maximum of two single-hooks may be used.
The use of bait is allowed year-round.
This area is closed to snagging.
Ketchikan Creek is open to sport fishing for all species including king salmon.
The bag and possession limit for king salmon in Ketchikan Creek is two king salmon of any size.
King salmon harvested in Ketchikan Creek do not count towards the nonresident annual limit.
Fishing gear permitted in Ketchikan Creek is one unbaited, single-hook, artificial lure only.
Coho salmon
Coho harvest reports have been great throughout the Ketchikan area. Anglers reported harvest in Nichols Pass, Alava, Clover Pass, Survey Point, Camano, the backside of Gravina, Cape Chacon, and the Duke Island area.
Pink salmon
Pink catch rates have picked up from the last few weeks. Marine anglers are reporting fair catch rates for pink salmon throughout the area. Roadside anglers can now find good shoreline angling for pink salmon at Thomas Basin, Ward Creek and Ketchikan Creek. Anglers will find plenty of pinks in freshwater streams now.
Halibut
Halibut harvest reports remain good throughout the Ketchikan area.
Rainbow, Cutthroat and Brook Trout
There are a few good opportunities to target rainbow and cutthroat trout along the road system. Anglers have been having success at Ward Creek, Ketchikan Creek and Carlanna Lake. Ketchikan Creek was opened June 1st and will be open for the remainder of the year. If you are up for the hike, anglers have been successful catching brook trout at the outlet of Perseverance Lake. If remote fishing is on your agenda, try the Naha River, McDonald Lake or Fish Creek.
Be sure to check the 2017 Southeast Alaska Sport Fishing Regulations. The Ketchikan Area Freshwater Special Regulations can be found on pages 29-31. Regulations vary depending on the waters you plan to fish.