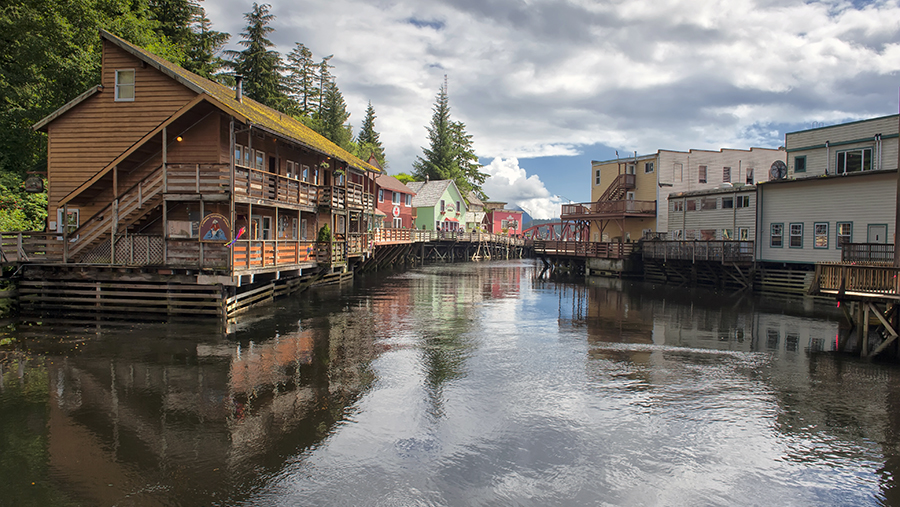 Are you considering taking a trip to Ketchikan, Alaska as part of your vacation? If so, you're in the right place!
With as many as 884,503 visitors annually, we're unsurprised you'd want to include Ketchikan in your busy schedule.
Although this beautiful place isn't known for its fabulous weather, it doesn't dampen the spirits or the appearance of this gorgeous city.
With that in mind, let's dive into why we think Ketchikan is so great- especially the fishing excursions!
What to Expect
Imagine a city with a backdrop of forested slopes on one side, and the magic of the ocean on the other- well that's pretty much Ketchikan in a nutshell, just beautiful.
Home to the uniquely shaped Deer Mountain and Tongass Narrows, a quaint waterway full of local fishing boats and floatplanes – we're sure you'll instantly fall in love with this delightful place.
Things to Get up To
Downtown, you'll find two lovely harbors, as well as loads of Ketchikan's main attractions.
You'll want to take a walk down historic Creek Street. This is a boardwalk built over Ketchikan Creek.
While you're there, try taking the Married Man's Trail. This is a winding walk through natures bounty that leads to the top of the hill. This climb is undoubtedly worth the effort because the views are breathtaking!
From this point, you can look down on the hustle and bustle of the city as well as the serenity of Tongass Narrows.
FUN FACT: This trail gets its name from the antics of married men (back in the 1930's). They would sneak off to the brothels found on Creek Street, via this secluded route!
If you're a sucker for a picturesque view, head to Ketchikan's Waterfront Promenade. This runs around the edge of the shoreline and provides plenty of information about the history of the place.
Plus, several whale-tail benches are dotted around so you can pause for a moment and soak up the glorious views.
Fishing Excursions
In the late 1800's Ketchikan became a salmon cannery site. Short after that, it was nicknamed the "Salmon Capital of the World".
So, it's not surprising anglers flock to this city to participate in one of the many fishing excursions available.
Huge schools of salmon migrate from the open ocean into the protected waters of Ketchikan. So, deep sea fishing is a favorite pastime here.
Anglers can revel in the attempt of catching all five species of Pacific salmon. (King, Silver, Sockeye, Pink, and the rarest of all- the Alaskan King Salmon).
You might also catch halibut, red snapper, lingcod, steelhead, Dolly Varden, grayling, rainbow, and cutthroat trout.
If you head out with one of the local professional guides, you're far more likely to catch whatever you fancy having for your supper!
You won't find a better place to sample fishing excursions than the surrounding waters of Ketchikan during the summer months. Ketchikan is famous for housing some of the best charter boats in the word!
With so many avid anglers afoot you can share your love of fishing with people who're just as passionate about this fabulous sport, and probably learn a new thing or two.
Try the Best Seafood You've Ever Had!
Cleary, Ketchikan has a fabulous reputation for all things fish, so it's unsurprising that local restaurants are renown for their delicious seafood dishes.
If you're looking to sample any of the following delicacies you won't be disappointed: salmon, halibut, crab, shrimp, oysters, and clams.
All of these are locally caught from the icy waters of the Pacific Ocean and served up for your dinner- it doesn't get much fresher than that!
Be sure to try these local favorites:
Creamy seafood chowders
Smoke cod and halibut smoked
Salmon burgers
Salmon jerky
Smoked salmon spread
Cured salmon
Salmon rolls
Salmon Roe
Not only is the local food out of this world, but the atmosphere is excellent. Several restaurants offer live music from local musicians while you dine in style.
Enjoy Ketchikan's Nature and Wildlife
If you're a nature-lover, there's plenty for you to explore.
Whether you want to check out the nearby state parks, the Rainforest Sanctuary or, Ketchikan's local beaches- you're sure to find something that suits your tastes!
Alternatively, you could visit the Southeast Alaska Discovery Center to learn more about the Tongass National Forest. Or, check out the Deer Mountain Tribal Hatchery and Eagle Center.
Over there they offer informative guided tours that'll teach you how this facility raises thousands of king and coho salmon, as well as steelhead and rainbow trout.
Then, they release these fish into the nearby stream, for them to return to them in the summer months. Additionally, this center homes two eagles who were injured and sadly, can no longer fly.
Take in a Museum
Ketchikan has a rich history, ready for you to explore at the Tongass Historical Museum.
Over there you'll find a fabulous collection of both local and Alaskan Native artifacts. Many of these relate to Ketchikan's thriving fishing and mining industry.
Depending on when you make your visit, you might catch a traveling exhibition or a temporary showcase of the work of local artists.
Outside this museum stands an impressive Raven Stealing, the Sun Totem. As well as an observation platform that overlooks Ketchikan Creek.
In July and August, you might catch a glimpse of the salmon leaping up into the air.
You can also get a feel for the cities culture at the George Inlet Cannery and the Great Alaskan Lumberjack Show.
Last but least, we thoroughly recommend paying a visit to Dolly's House. In the 1930s Dolly's House was a brothel headed up by Dolly Arthur.
This property has since transformed into a museum dedicated to this notorious era. You'll be taken through the brothel and learn all about Dolly's fascinating life.
Would You like Some More Information?
If you'd like some more information, especially where fishing excursions are concerned, please feel free to check out our fishing blog.
Over there you'll find plenty of articles that we're sure you'll enjoy if you're as passionate about fishing as we are!
Alternatively, please feel free to contact us with any questions you might have about your trip. We'd be more than happy to help. Speak soon!